Accessibility Assistant
Make your website accessible to all
Image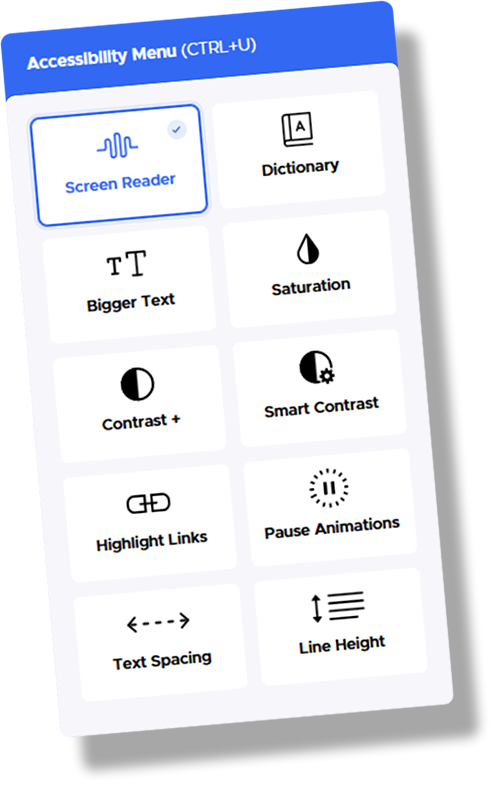 Image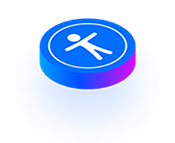 User-Triggered Accessibility Functions
Give the power back to all your users. Our Accessibility Assistant Widget gives your users all the tools they may need to get the most out of your website.
Screen Reader
Our industry-leading screen reader speaks aloud all page contents without needing to install an external screen reader.

Dictionary
Gives users access to dictionary lookups without needing to leave the website. Essential for those with cognitive disabilities, non-native English speakers, and more. [WCAG 2.1, §3.1]

Bigger Text
Cycles on-screen text through four different levels of size increases. Makes every part of your site instantly more readable. [WCAG 2.1, 1.4.4]

Dyslexia Friendly
Our Dyslexia Friendly Font enhances readability for those with dyslexia and provides an easier and more fluid reading experience that is tailored to site visitors with dyslexia.

Smart Contrast
Ensures that all of your site colors are fully ADA-compliant, resulting in higher visibility for your content.
AI-powered Accessibility
Our artificial intelligence powered solution is able to interpret and write accessible code similar to a team of experts, but within a fraction of the time. Request an audit of your current website below and we can show you just how much needs to be done.
Image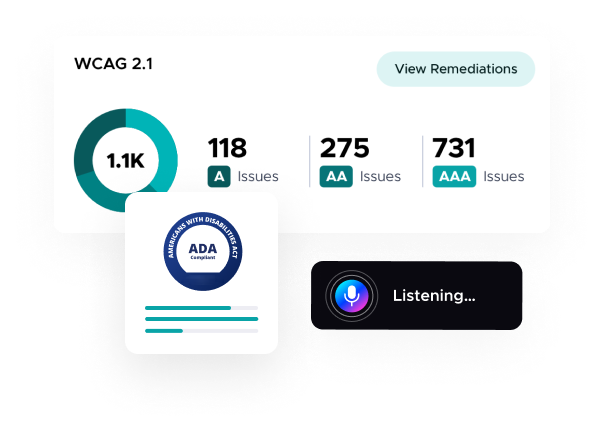 Image

Enhance Accessibility
Accessibility sets your website apart and showcases your commitment to inclusion – all while boosting SEO, search rankings, conversions and your bottom line.
Image

Mitigate Legal Risk
Protect your website from accessibility-related lawsuits with the world's strongest automated solution for accessibility.
Image

Stay Compliant as You Scale
The real-time AI stays on top of all new changes you make and pages you create, ensuring compliance for the present and the future. Big or small, your website is completely covered.
Image

Become WCAG and ADA Compliant
Make sure your website is fully compliant with the industry standards. Once activated, your website will 100% comply with WCAG 2.1, ADA and other standards specific to your country and industry.
Tell the World Your Website is Compliant
With Accessibility Assistant, your website gets a dynamically generated Statement of Compliance with the WCAG and ADA standards. Show the world that you are compliant with the globally recognized standards of Accessibility.
Image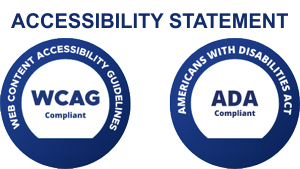 Image

Activate Accessibility
Assistant
Image

Sit back as the AI
technology scans and
fixes poorly accessibly
parts of your website
Image

AI will continually monitor
existing and future pages
24/7
Image

Generate an Accessibility
Statement and showcase
your accessibility status
to your users
Accessibility Assistant puts your users in control
Image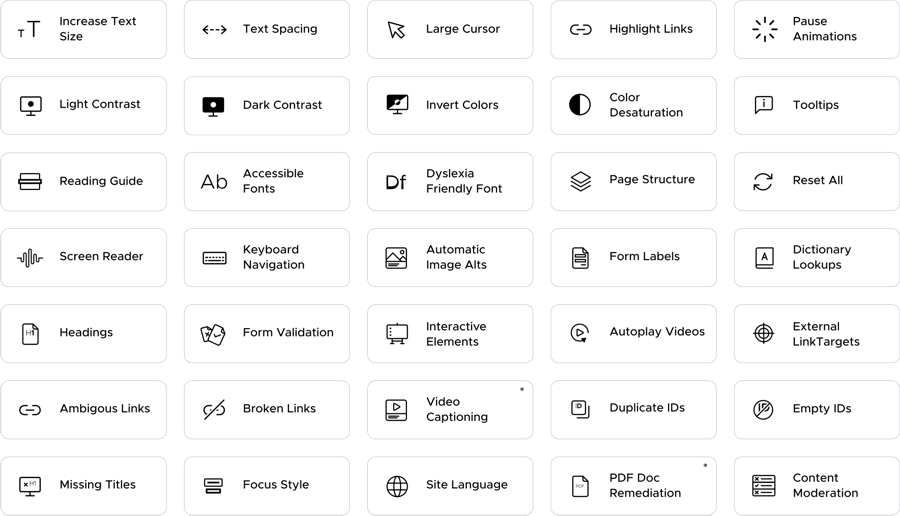 And hundreds of more AI-Powered functions that ensure WCAG & ADA compliance!
Pricing for our AI-Powered Accessibility Assistant
Choose Annual or Monthly Plan
Small Site
$1,950
annual or $195 monthly

Up to 100K page views per month
AI-Powered Accessibility Compliance
Accessibility Assistant widget
$99 Setup Fee

Get 2 Months FREE!
Medium Site
$3,950
annual or $395 monthly

Up to 1M page views per month
AI-Powered Accessibility Compliance
Accessibility Assistant widget
$199 Setup Fee

Get 2 Months FREE!
Large Site
$6,950
annual or $695 monthly

Up to 10M pageviews per month
AI-Powered Accessibility Compliance
Accessibility Assistant widget
$299 Setup Fee

Get 2 Months FREE!
All plans include
Full suite of 100+ AI-powered accessibility functions
WCAG 2.1 AA, ADA, Section 508 compliance
Real-time accessibility monitoring & reports
Litigation protection + $10,000 USD guarantee
10-day free trial
Add-on: Usage Tracking
Image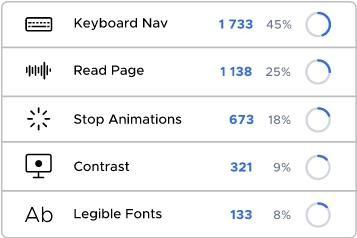 Real time and historical usage statistics and trends. Gain insight into which accessibility features your visitors use most.
Starts at $35/month
Add-on: Live Translations
Image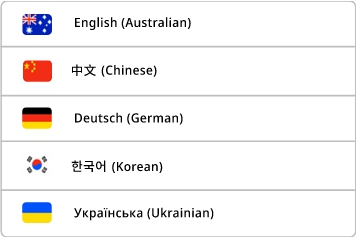 Instantly translate both the text and screen reader audio for your site into 40+ languages to make it more accessible for non-native speakers.
Starts at $105/month
Ready to achieve compliance and create an inclusive digital experience? We'll help you every step of the way. Get started today.